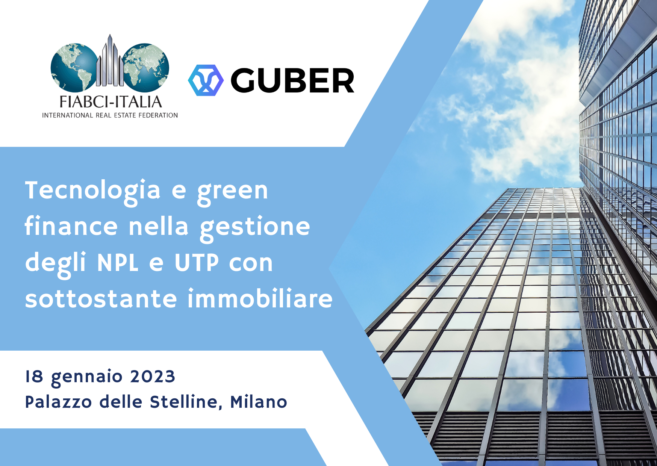 Il 18 gennaio 2023, presso Palazzo delle Stelline a Milano, si terrà il convegno dal titolo Tecnologia e green finance nella gestione degli NPL e UTP con sottostante immobiliare.
L'evento sarò focalizzato sulla tecnologia e il green finance e vedrà la presenza di operatori, gestori e fornitori dei servizi connessi alla gestione dei crediti in sofferenza con sottostante immobiliare:
9:30 Registrazione partecipanti
9:45-10:00 – Saluti d'apertura
Krzysztof Grzesik, Chairman of the Board of Directors TEGOVA
Angelo Peppetti, Responsabile Ufficio Credito e Sviluppo ABI
10:00-11:00 – Le strategie per affrontare l'attuale mercato – 1° Tavola Rotonda
William Della Vedova, Head of portofolio management Guber Banca
Emanuele Leoni, Head of NPL Management Cherry Bank S.p.A.
Giovanni Barassi, CEO Algos S.r.l.
Davide Galletti, Amministratore Delegato Tyche S.p.A.
Alberto Sondri, Executive Director Cribis Credit Management
11:00-11:15 – Coffee break
11:15-12:15 – Le strategie per affrontare l'attuale mercato – 2° Tavola Rotonda
Philip Oldcorn, Executive Chairman Dual Asset
Davide Schiffer, Amministratore Delegato Borgosesia S.p.A.
Luca Malighetti, Partner Lumi Srl – Real Estate Asset Managment
Ferruccio Ravelli, Direttore Sparim S.p.A.
Tommaso Longo, Head of Corporate Relationships Europa Investimenti S.p.A.
12:15-12:45 – Comunità energetiche, infrastrutture sportive
Roberta Zanaboni, Socio fondatore H&D Legal
Fabrizio Rampazzo, Amministratore Delegato Blue Factory
12:45-13:00 – Chiusura lavori
Emanuele Barbera, Partner CBS Services
13:00-14:00 – Light Lunch
14:00-15:15 – I player digitali e l'importanza del dato nel futuro del real estate
Carlo Giordano, Amministratore Delegato Immobiliare.it
Renato Ciccarelli, Amministratore delegato Abilio S.p.A.
Andrea Valente, Wondike
Rocco Mancusi, Sales Director Western Europe Recognyte
Dario Cardile, Founder & CEO Kaaja S.r.l.
Luke Brucato, Chief Marketing & Innovation Officer RE VALUTA S.p.A.
15:15-16:30 – Chiusura lavori
Federico Oriana, Presidente ASPESI – Unione Immobiliare
Silvia Cappelli, Member of the Board TEGOVA, Responsible for International Relations ASSOVIB
Livio Spinelli, Consigliere Nazionale CNGeGL
Sandro Ghirardini, Segretario Generale E-Valuations
Davide Bisi, Vicepresidente FIMAA Italia
Alexander Benedetti, Segretario IsIVI
Massimiliano Pulice, Chair of Advisory Board RICS Italia
Marisa Corso, CEO MC International
16:30 – Passaggio di consegna Presidenza di FIABCI Italia
Modera
Antonio Campagnoli, Presidente FIABCI Italia